The Center for X-Ray Optics
---
The Center for X-Ray Optics at Lawrence Berkeley National Laboratory works to further science and technology using short wavelength optical systems and techniques. We create and operate advanced experimental systems to address national needs, support research in material, life, and environmental science, and extend the forefront of semiconductor manufacturing.
"CXRO is a one-of-a-kind facility with over 25 years of experience providing short wavelength optical solutions. From instrument development to scientific discovery, our vertically integrated structure allows us to tackle a full spectrum of research."
Patrick Naulleau
CXRO Director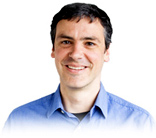 News
---
Hero Card Raffle Winner Chanin King Excels at Teamwork
This is an excerpt from an article that originally appeared in "Today At Berkeley Lab"
Safety culture is definitely "a thing" at LBNL's Center for X-Ray Optics, as evidenced by how research technicians Chanin King and Warren Holcomb identify and resolve safety issues. Chanin won the raffle this quarter for properly tracking and handling unlabeled waste, but both he and Warren have been recognized with a Hero Card on other occasions. For instance, last year Warren received a Hero Card from their supervisor for taking the required steps to resolve a situation that generated static electricity: the equipment was immediately unplugged, a note that described the problem was attached, and their supervisor was notified straightaway so that the issue could be resolved by the appropriate expert.
Chanin lucked out by winning this raffle, but these co-workers feel they hit the jackpot every day just by being on the same team and watching out for each other and their group. When asked about the Hero Card for handling unlabeled waste, Chanin explained the situation but also immediately thought of Warren. That level of teamwork may be present in many work situations but is not always acknowledged so explicitly.
Read more news highlights